Biological function of Presenilin and its role in AD pathogenesis
Translational Neurodegeneration
2013
2:15
Received: 19 May 2013
Accepted: 14 July 2013
Published: 17 July 2013
Abstract
Presenilins (PSs) are the catalytic core of γ-secretase complex. However, the mechanism of FAD-associated PS mutations in AD pathogenesis still remains elusive. Here we review the general biology and mechanism of γ-secretase and focus on the catalytic components – presenilins and their biological functions and contributions to the AD pathogenesis. The functions of presenilins are divided into γ-secretase dependent and γ-secretase independent ones. The γ-secretase dependent functions of presenilins are exemplified by the sequential cleavages in the processing of APP and Notch; the γ-secretase independent functions of presenilins include stabilizing β-catenin in Wnt signaling pathway, regulating calcium homeostasis and their interaction with synaptic transmission.
Keywords
Notch SignalingAutophagic VacuoleNeuritic PlaqueLeak ChannelPresenilins Mutation
Introduction
Alzheimer's disease is the most common neurodegenerative disorder leading to dementia, accounting for two thirds of dementia in elderly populations. The majority of AD cases are late-onset and sporadic without defined causes, whereas less than 5% of cases are familial with early-onset and caused by gene mutations. Genetic studies have shown that four genes confer susceptibility to AD: amyloid-β precursor protein (APP) on chromosome 21 [1–6], Presenilin 1 (PS1) on chromosome 14 [7–10], Presenilin 2 (PS2) on chromosome 1 [11–13] and apolipoprotein E (ApoE) on chromosome 19 [14, 15]. Neuritic plaques, neurofibrillary tangles (NTFs) and neuronal loss are pathological hallmarks of AD. However, the mechanism underlying AD pathogenesis remains elusive and there is no effective prevention or treatment to this devastating disorder so far.
Neuritic plaques are formed by extracellular deposits of amyloid β protein (Aβ) [16]. Aβ is derived from proteolytic processing of APP and consists primarily of 40- and 42-amino acid residues, with the more hydrophobic Aβ42 as the major component in neuritic plaques [16, 17]. NFTs are intraneuronal inclusions composed of hyperphosphorylated forms of the microtubule-associated protein Tau [18–21]. Aβ-containing neuritic plaques are the unique pathological feature in AD brains whereas NTFs could also be detected in other dementia subtypes like frontotemporal dementia with Parkinsonism caused by mutations on MAPT gene [22]. Current prevailing "amyloid hypothesis" in AD suggests that the accumulation of Aβ, particularly the more hydrophobic and aggregation-prone Aβ42, being soluble oligomers [23–29] or aggregate fibril form, initiates neuronal dysfunction, resulting in neurodegeneration in AD [30].
The central event of "amyloid hypothesis" is APP processing. APP undergoes posttranslational proteolytic processing by α, β and γ-secretases (Figure
1
). The majority of APP is constitutively processed by α-secretase within the Aβ domain in a non-amyloidogenic pathway [
31
]. In the amyloidogenic pathway, APP undergoes sequential cleavages by β- and γ-secretase to generate Aβ. A transmembrane aspartic protease BACE1 was identified as β-secretase [
32
–
35
]. BACE1 processes APP at the Asp
1
site of Aβ domain to generate APP C99 fragment [
34
,
36
]. The C99 fragment is further processed by γ-secretase at the intramembrane Val
40
and Ala
42
sites to generate Aβ40 and Aβ42, respectively. The second cleavage, which takes place within the hydrophobic transmembrane domain (TMD) and is termed as regulated intramembrane proteolysis (RIP) [
37
], has been attributed to γ-secretase with presenilins as the catalytic component [
38
–
45
].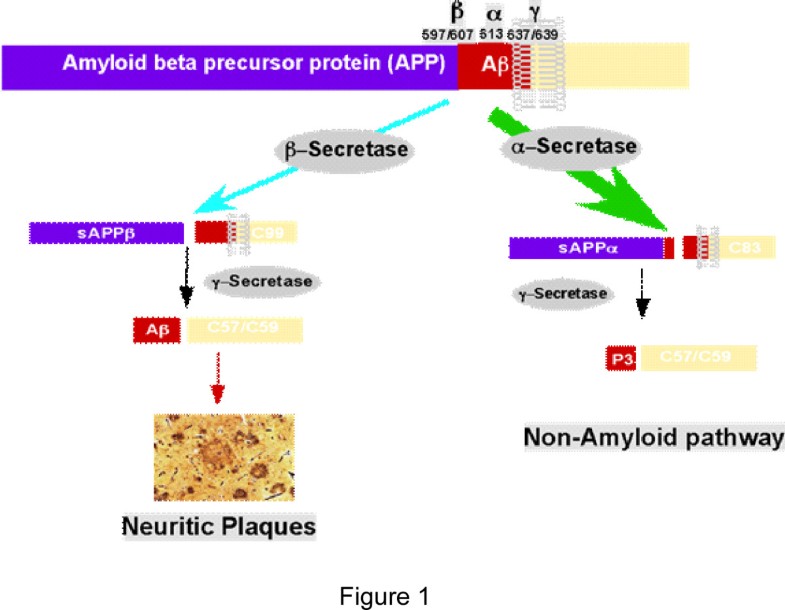 As the catalytical component of γ-secretase, the first part of this review will focus on the contribution of presenilins to γ-secretase and its role in AD pathogenesis in the scenario of "Amyloid hypothesis". The rest of this review will discuss diverse biological functions of presenilins independent of γ-secretase activity. Its well-established role in β-catenin/Wnt-signaling and calcium homeostasis as well as the contribution to the AD pathogenesis will be addressed.
Presenilins and γ-secretase
Presenilins beyond γ-secretase
Recently, mounting evidence has supported that presenilins carry out multiple functions beyond the catalytic functions of γ-secretase. The conditional knock-out of presenilins in excitatory neurons demonstrated age-dependent neurodegeneration, indicating an essential role of presenilins in neurodegeneration independent of amyloid cascade [124, 125]. However, given the fundamental function of Notch, it is hard to exclude that the phenotypes in conditional PS knock-out mice is due to the impaired Notch signaling. In the moss Physcomitrella patens (P. patens), which lacks Notch signaling, presenilin-deficit phenotype could be rescued by wild type presenilins as well as PS mutants without γ-secretase activity, indicating other functions of PS beyond γ-secretase activity [126]. Moreover, presenilins-knock-out mice exhibited more severe somite phenotype than mice lacking canonical Notch-signaling and mice deficient of Nicastrin, Aph-1 or Pen-2, which could still develop anterior somite [127]. In summary, all these clues point to the existence of independent functions of presenilins beyond γ-secretase.
FAD-associated presenilins mutations exhibit not only significant heterogeneity on clinical features like age of onset, neurological and psychiatric symptoms, but also on neuropathology including greater NTF formation, altered neuritic plaque composition, presence of Pick body, and neuropathological lesion in basal ganglia and brainstem [
128
–
130
]. It is also reported that presenilins are involved in Wnt signaling, cell adhesion, calcium homeostasis, protein degradation and apoptosis, raising the possibility that γ-secretase-independent function of presenilins might contribute to the presenilins mutations-associated heterogeneity. The subsequent sections of this review will focus on these issues (Figure
4
).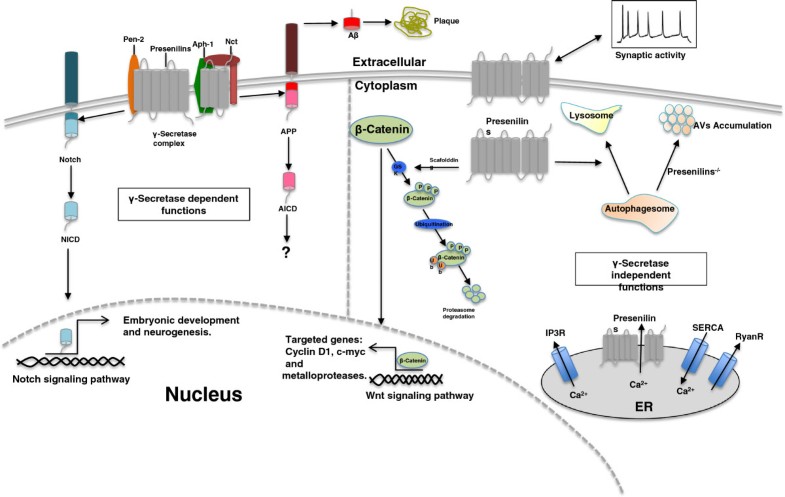 PS1 and β-catenin
β-Catenin in Wnt-signaling and cell-cell adhesion
β-Catenin is a signal transducer protein in Wnt-signaling pathway as well as a cell adhesion molecule [131]. β-Catenin carries out two distinct functions according to its cellular location: the membrane β-catenin forms complex with E-cadherin as cell-cell adhesion molecule; whereas the cytoplasmic β-catenin is involved in Wnt-signaling pathway to regulate gene expression. In the absence of Wnt ligand, β-Catenin undergoes phosphorylation by Glycogen Synthase Kinase-3β (GSK3β) with the assistance of Axin/APC complex, and then the phosphorylated β-catenin is constitutively degraded in ubiquitin proteasome pathway. Binding of Wnt to its receptor Frizzled and co-receptor LRP5/6 blocks phosphorylation of β-catenin by GSK3β, precluding the degradation of β-catenin. β-catenin is translocated into nuclear to activate transcriptional factor like T-cell-specific transcriptional factor 1 (TCF), to regulate target genes like cyclin D1, c-myc, and metalloproteases. On the other hand, membrane β-catenin acts as a bridge to link cadherins to α-catenin, and the latter binds to actin network, to stabilize adherence junctions as well as the cytoskeleton [131].
PS1/β-catenin interaction and AD
PS1 negatively regulates β-catenin level via physically interacting with β-catenin through the cytosolic-loop structure of PS1 [132–136]. This function of PS1 is γ-secretase-independent since the D257A mutant could rescue the turnover of β-catenin as wild type PS1 does [137]. Though evidence supports the idea that PS1 works as a scaffold to facilitate β-catenin phosphorylation, the underlying mechanism remains to be elucidated [136–138].
It has been reported that the stabilization of β-catenin contributes to the development of skin cancer in PS1-deficient mice [139]. However, the precise role of β-catenin in AD pathogenesis is not clear. Most studies on sporadic AD indicated that reduced Wnt/β-catenin signaling might make a contribution to AD pathogenesis [140]. However, the studies on FAD were conflicting, some PS mutations were found to stabilize β-catenin while others destabilized it [132, 136, 137, 141–143].
Presenilins and calcium regulation
Conclusion
γ-secretase sequentially processes its substrates at ϵ- and γ-sites and the enzymatic activities on two cleavages are distinct. As the catalytic component of the γ-secretase complex, FAD-associated presenilins affect γ-secretase activity on the γ-site but the effects on ϵ-cleavage vary. These studies suggest the possibility of development of γ-secretase modulators sparing the Notch signaling in the future. It has long been observed that presenilins are involved in functions independent of the γ-secretase activity, like interaction with β-catenin/Wnt signaling, calcium regulation and autophagy degradation. However, its contribution to AD pathogenesis is not clear. Further studies are needed to clearly define the function of presenilins and its role in AD pathogenesis.
Abbreviations
AD:

Alzheimer's disease
PS:

Pensenilin
APP:

amyloid β precursor proteins
BACE1:

Beta-site APP cleaving enzyme 1
Aβ:

Amyloid β protein.
Declarations
Acknowledgements
This work was supported by Canadian Institutes of Health Research (CIHR) Operating Grant CCI-117952. W.S. was the holder of the Tier 1 Canada Research Chair in Alzheimer's Disease. S. Z. was the recipient of the Chinese Scholarship Council award. M. Z. is supported by UBC 4YF Scholarship.
Authors' Affiliations
(1)
Townsend Family Laboratories, Department of Psychiatry, Brain Research Center, Graduate Program in Neuroscience, The University of British Columbia, Vancouver, Canada
Copyright
© Zhang et al.; licensee BioMed Central Ltd. 2013
This article is published under license to BioMed Central Ltd. This is an Open Access article distributed under the terms of the Creative Commons Attribution License (http://creativecommons.org/licenses/by/2.0), which permits unrestricted use, distribution, and reproduction in any medium, provided the original work is properly cited.