Premotor biomarkers for Parkinson's disease - a promising direction of research
Translational Neurodegeneration
2012
1:11
Received: 10 February 2012
Accepted: 31 May 2012
Published: 31 May 2012
Abstract
The second most serious neurodegenerative disease is Parkinson's disease (PD). Over the past several decades, a strong body of evidence suggests that PD can begin years before the hallmark clinical motor symptoms appear. Biomarkers for PD are urgently needed to differentiate between neurodegenerative disorders, screen novel therapeutics, and predict eventual clinical PD before the onset of symptoms. Some clinical evaluations and neuroimaging techniques have been developed in the last several years with some success in this area. Moreover, other strategies have been utilized to identify biochemical and genetic markers associated with PD leading to the examination of PD progression and pathogenesis in cerebrospinal fluid, blood, or saliva. Finally, interesting results are surfacing from preliminary studies using known PD-associated genetic mutations to assess potential premotor PD biomarkers. The current review highlights recent advances and underscores areas of potential advancement.
Keywords
Parkinson's diseaseBiochemical markers LRRK2 GBA α-synucleinDJ-1Clinical biomarkersPremotorNeuroimaging parkin CSF
Introduction
Parkinson's Disease (PD) is a common and incapacitating neurodegenerative disease which affects the human population worldwide [
1
–
3
]. It generally presents clinically in adults over 60 years old, and major symptoms include akinesia, tremor, bradykinesia, and postural instability. Currently, its diagnosis relies largely on assessment of clinical symptoms. Unfortunately, this purely clinical diagnosis, combined with the similarities of PD symptoms with those of other neurodegenerative and movement disorders, results in frequent misdiagnosis: up to 50% of the time in primary care settings, while movement specialists fare somewhat better with an early PD misdiagnosis rate around 10% [
4
–
6
]. PD can currently only be confirmed through its pathological hallmark of Lewy bodies and Lewy neurites located in residual neurons or axons, respecitively, upon postmortem analysis [
7
]. To complicate matters, diagnosis is generally not made until an advanced stage of neurodegeneration: by some estimates, 50-60% of dopaminergic neurons in the substatia nigra are lost prior to the time of clinical diagnosis [
8
–
13
], limiting effectiveness of potential neuroprotective therapies due to the low number of remaining neurons (Figure 
1
).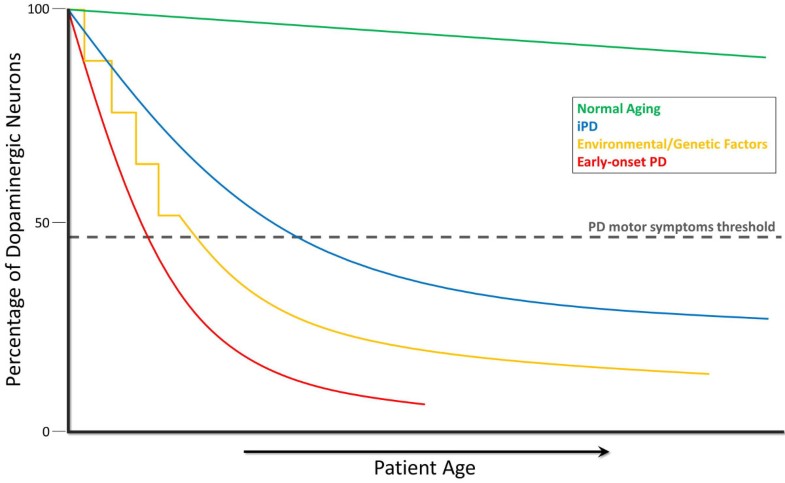 Thus, introduction of new treatments and interventions for PD will depend on improved diagnosis, preferably at early, premotor stages at which a larger population of dopaminergic cells remains. Furthermore, the progression of the disease must be accurately assessed, in order to monitor efficacy of treatments and improve individualized therapeutic strategies. Much work toward this end has focused on identifying sensitive, specific biomarkers for PD. According to the NIH biomarker working group, a biomarker is "a characteristic objectively measured and evaluated as an indicator of normal biological processes, pathogenic processes or pharmacological responses to a therapeutic intervention"[14, 15]. In other words, an ideal biomarker for PD must be able to identify almost all cases of PD in its premotor stages, change concomitantly with disease stages, and differentiate between PD and other neurodegenerative diseases. In practice, however, a combination of several biomarkers will likely be needed to correctly diagnose and track PD progression, and this review focuses on some of the most promising premotor PD biomarkers which could be most effective.
Potential premotor PD biomarker candidates
Conclusions
The need to develop premotor PD biomarkers is increasingly apparent as the aging population grows and considering the limited effectiveness of neuroprotective treatments in altering disease course at the advanced stages. The clinical biomarkers have been well-characterized and correlated with PD outcomes and severity but tend to lack specificity and sensitivity. Neuroimaging, however, can be highly sensitive and specific for premotor PD but significant cost and access barriers exist. The most promising avenue for future work involves both genetic markers and biochemical markers, and currently, efforts are underway at several sites worldwide, including the Michael J. Fox Foundation (http://www.michaeljfox.org/research_MJFFresearchTools.cfm) and the Parkinson's UK Brain Bank (http://www.parkinsons.org.uk/), to collect and utilize PD tissues to this end [144]. Because some genetically susceptible populations, such as LRRK2 or GBA mutation carriers, possess known PD-associated mutations, they can be employed to validate and screen potential biochemical markers underutilized biological samples, such as saliva. In short, the best outlook for premotor PD biomarkers relies heavily on the rapid and reliable identification of premotor biomarkers with independent validation of biochemical markers the clinical cohort most likely to develop PD.
Declarations
Acknowledgements
This work was supported by NIH grants AG033398, ES004696-5897, ES007033-6364, ES016873, ES019277, NS057567, and NS062684-6221.
Authors' Affiliations
(1)
Department of Pathology, University of Washington School of Medicine, Seattle, USA
Copyright
© Haas et al; licensee BioMed Central Ltd. 2012
This article is published under license to BioMed Central Ltd. This is an Open Access article distributed under the terms of the Creative Commons Attribution License (http://creativecommons.org/licenses/by/2.0), which permits unrestricted use, distribution, and reproduction in any medium, provided the original work is properly cited.