Endoplasmic reticulum-mitochondria tethering in neurodegenerative diseases
Translational Neurodegeneration
2017
6:21
Received: 15 April 2017
Accepted: 1 August 2017
Published: 23 August 2017
Abstract
Endoplasmic reticulum (ER) and mitochondria are tubular organelles with a characteristic "network structure" that facilitates the formation of inter-organellar connections. As a result, mitochondria-associated ER membranes (MAMs), a subdomain of the ER that is tightly linked to and communicates with mitochondria, serve multiple physiological functions including lipid synthesis and exchange, calcium signaling, bioenergetics, and apoptosis. Importantly, emerging evidence suggests that the abnormality and dysfunction of MAMs have been involved in various neurodegenerative disorders including Alzheimer's disease, amyotrophic lateral sclerosis, and Parkinson's disease. This review will focus on the architecture and function of MAMs and its involvement in the neurodegenerative diseases.
Keywords
Mitochondria-associated ER membraneMitochondria-ER tetheringAlzheimer's diseaseParkinson's diseaseAmyotrophic lateral sclerosis
Background
In 1990, Vance [1] found that crude rat liver mitochondrial fraction was capable of rapid and linked synthesis of phospholipids and also contained phosphatidylserine synthase (PSS) and phosphatidylethanolamine methyltransferase activities which were absent from highly purified mitochondria. This could be attributed to the presence of a membrane fraction 'X' in the crude but not highly purified mitochondria. It turns out that this fraction 'X' , now commonly regarded as the mitochondrial associated membrane (MAMs), is a specialized subdomain of the endoplasmic reticulum (ER) with specific lipid and protein composition that is involved in the crosstalk with mitochondria. Phospholipid synthesis and exchange was the first identified function of MAMs. Later, it was demonstrated by electron tomography that ER and mitochondria are linked by high electron-dense tethers (10 nm at the smooth ER and 25 nm at the rough ER) termed as mitochondria-ER tethers (a.k.a., Mitochondria-ER contact/crosslink/crosstalk/communication or MERC) [2, 3]. In fact, approximately 5 ~ 20% of the mitochondrial surface is juxtaposed (10–30 nm distances) to specialized regions of the ER tubules [4–7]. Such a short distance suggests that the two organelles are tethered together by proteins on the juxtaposed membranes [7]. MERC appear to be stable structures. Although the ER and mitochondrial membranes form multiple and specific crosslink sites, it must be emphasized that they do not fuse but instead still maintain the organelles' distinct structures and characteristics which is crucial for them to serve as a major platform to carry out important physiological roles in the regulation of intracellular calcium homeostasis [6, 8–12], lipid metabolism [1, 13], mitochondrial fission [14], autophagosome formation [15] and apoptosis progression [16, 17]. In this review, we will focus on recent data addressing the structural composition and function of the MAMs in mammalian system and its potential involvement in various neurodegenerative diseases.
ER–mitochondria tethering protein complexes
The molecular details of ER–mitochondria tethers are largely unknown. Electron microscopic studies showed that the cleft of a MERC is typically dotted by electron-dense areas that are widely accepted to be formed by protein complexes. The MAM fraction can be detached from mitochondria through the limited digestion with trypsin or Proteinase K which is suggestive of proteinaceous characteristics [
7
]. Indeed, several pairs of integral membrane proteins located on mitochondria and ER important for MERC formation and physical tethering of the organelles were identified (Fig.
1
) [
5
]. Additional proteins that localize in the cleft of the MERC and participate in its biochemical activity or functional regulation might also, directly or indirectly, participate in MERC formation or maintenance such as by spacing apart the opposing membranes of the ER and the mitochondrion at a distance that allows the formation of MERC tethers.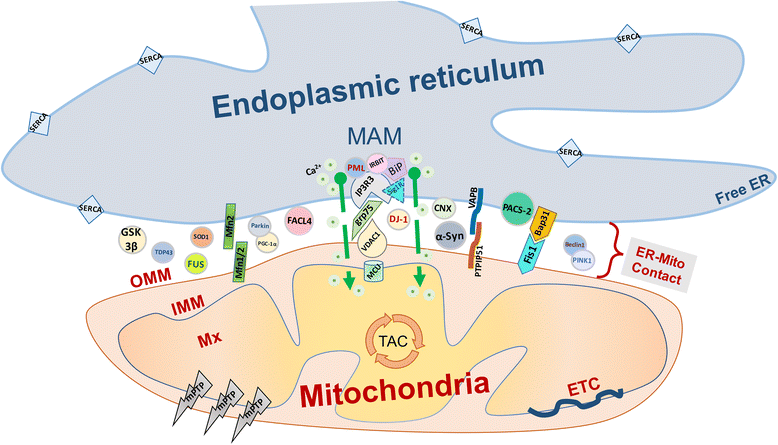 Functions of MAM
Mitochondria and ER have crucial but distinctive roles in mammalian cells. ER-mitochondria tethering provides a platform facilitating the crosstalk between these two organelles which appears essential for the function of these organelles. Indeed, it becomes increasingly clear that MAM plays an important role in various cellular processes critical for cell survival and death, which is briefly discussed below.
Disturbed ER-mitochondria tethering in neurodegenerative disorders
Alzheimer's disease (AD), Parkinson's disease (PD), and amyotrophic lateral sclerosis with associated frontotemporal dementia (ALS/FTD) are major neurodegenerative diseases. These neurodegenerative diseases are characterized by damage to various cellular processes, many of which are regulated by ER-mitochondria tethering. Indeed, abnormal MAM signaling is reported in all these neurodegenerative diseases as reviewed below.
1.

Alzheimer's Disease

Presenilins are the catalytic subunits of the gamma secretase responsible for the generation of amyloid-β (Aβ) [60]. Mutations in presenilin 1 (PS1) and 2 (PS2) cause human familial AD. Presenilins were present in many compartments in the cell including ER and mitochondria [61]. Eric Schon's group first demonstrated the enrichment of presenilins in the MAM and suggested that MAM is the predominant subcellular location for PS1/PS2 and gamma secretase activity and later further demonstrated significantly increased MAM function and ER-mitochondrial communication in presenilin-deficient cells and in fibroblasts from patients with both the familial and sporadic forms of AD, suggesting that upregulated MAM function and increased ER-mitochondria crosstalk may be involved in the pathogenesis of AD [60, 62, 63]. Indeed, expression of MAM-associated proteins were significantly increased in postmortem brain of human AD patients and in the APP transgenic mice although direct evidence of specific alterations in the ER-mitochondria interaction was lacking [64]. Consistent with this notion, Aβ treatment leads to increased MAM protein expression and increased MERC in cultured neurons and ApoE4 allele also upregulated MAM function [65]. However, another group, although agreeing upon the notion that presenilin modulates MAM function, disagreed on the specific effects of PS2 on MAM: Pizzo's group reported that the expression of the PS2, but not of PS1, facilitates the physical interaction and functional coupling between ER and mitochondria in Mfn2-dependent manner [66]. The reason for the discrepancy is not clear.

2.

Amyotrophic Lateral Sclerosis with associated Frontotemporal Dementia

Mutations in genes encoding several different MAM proteins, including a tethering protein, were associated with familial ALS which provides strong evidence to support the involvement of disturbed MAM function in the pathogenesis of ALS although it is hard to reconcile whether upregulated or disrupted MAM function plays the pathogenic role. VAPB interacts with the OMM protein PTPIP51 to form a MAM tether complex [27]. P56S mutation of VAPB causes autosomal-dominant ALS and VAPB-P56S mutant demonstrated higher affinity for PTPIP51 and consequently, increased Ca2+ transfer into mitochondria [27]. On the other hand, Sig-1R is another MAM protein that participates in the IP3R function to facilitate calcium signaling at MAM [36]. Mutations in Sig-1R caused juvenile ALS although in an autosomal recessive pattern [67]. Loss of Sig-1R function by gene mutation or downregulation has been shown to break ER–mitochondria associations [68]. ALS-causing superoxide dismutase 1 (SOD1) mutants aggregated and accumulated at MAM which compromised the integrity and activity of MAM [69]. ALS/FTD-associated TAR DNA-binding protein 43 (TDP-43), and fused in sarcoma (FUS) could also disrupt the MERC and perturb mitochondrial calcium uptake from ER through activation of glycogen synthase kinase 3β (GSK3β) which in turn perturbs VAPB-PTPIP51 interaction [28].

3.

Parkinson's Disease

Mutations in α-synuclein gene cause autosomal dominant PD and α-synuclein aggregates were major components of Lewy bodies. α-synuclein is present in MAM [70, 71], but pathogenic point mutations of α-synuclein result in its reduced association with MAM, coincident with a lower degree of apposition of ER with mitochondria, a decrease in MAM function, and an increase in mitochondrial fragmentation. Mutations in PARK2 gene (encoding Parkin protein) is associated with juvenile onset autosomal recessive forms of PD. Parkin is ATF4-dependently upregulated during mitochondrial and ER stress, which regulates the functional interplay between ER and mitochondria to help promote cell survival under stress [72]. Interestingly, Parkin is translocated to endoplasmic reticulum (ER) and mitochondrial/ER junctions following excitotoxicity, implicating a potential role for Parkin in MAM [73]. Indeed, a confocal microscopic study showed that Parkin overexpression resulted in enhanced physical coupling between ER and mitochondria and favored calcium transfer from the ER to the mitochondria following 1,4,5 inositol trisphosphate (InsP3) generating agonist and increased the agonist-induced ATP production in vitro [74]. Such a positive effect of Parkin on the ER-mitochondria interaction has been confirmed in nigral neurons by EM analysis [75]. However, a recent study demonstrated enhanced ER-mitochondria tethering in primary fibroblasts from Parkin knockout mice and PD patients with PARK2 gene mutations as well as in neurons derived from induced pluripotent stem cells of a patient with PARK2 gene mutations along with ER-to-mitochondria calcium transfers likely due to increased Mfn2 in MAMs [76]. PINK1, another familial PD and mitochondria quality control associated protein, and the pro-autophagic protein BECN1/Beclin1 were both found at MAM, the PINK1 and Beclin1 interaction enhanced ER-mitochondria contact and promoted the formation of autophagosome following mitophagy induction [77]. Mutations or deletion of DJ-1 are associated with autosomal recessive early onset familial PD. It was reported that DJ-1 is also present in the MAMs. DJ-1 overexpression caused increased Mitochondria-ER colocalization as demonstrated by confocal microscopy [78]. Whether this represents true increase in the MERC needs to be confirmed by other methods since confocal microscopy does not permit accurate quantification of the <30 nm distance.
Conclusions
Although it remains to be fully characterized how ER-mitochondria contacts are maintained and regulated, it is becoming increasingly clear that MERC provide an important platform to intertwine various signaling pathways to carry out many cellular processes of importance to neuronal function including the regulation of calcium homeostasis, phospholipid synthesis and exchange, mitochondrial biogenesis and dynamics and apoptosis. It is interesting that disturbance in MERC are involved in most of the neurodegenerative diseases studied such as AD, PD and ALS as discussed above. Indeed, disturbance in MERC provides a connection for the various seemingly disparate features of these neurodegenerative diseases which may suggest that the disturbance in MERC may serve as a common convergent mechanism underlying neurodegeneration. Admittedly appealing, this hypothesis faces several challenges. First, the many conflicting observations, likely due to the different methods used, need to be reconciled. For example, the fundamental involvement of Mfn2 in the ER-mitochondria tethering is under hot debate and the effects of PS2 on MAM need clarification. Secondly, it appears that both upregulated and disrupted MAM functions are implicated in neurodegenerative diseases, even in the same disease. For example, VAPB-P56S mutant caused enhanced ER-mitochondria crosstalk while TDP43 and FUS disrupted ER-mitochondria contacts. While both upregulated and disrupted MAM function could lead to cellular dysfunction and neurodegeneration, this highlights the need to characterize the effects of specific neurodegenerative disease insults on the ER–mitochondria axis. Thirdly, the detailed mechanism of MAM disturbance in these conditions needs to be worked out. Is there a common mechanism? TDP43 and FUS disrupt the VAPB-PTPIP51 tethering through GSK3β activation. While GSK3β is activated in many of these neurodegenerative diseases, it may not elicit the same outcome since PS1 mutation caused GSK3β activation [79] but led to increased ER-mitochondria tethering [80]. Fundamentally, therefore, the pathophysiological relevance of these observations also need to be firmly established.
Abbreviations
AD:

Alzheimer's disease
ALS:

Amyotrophic lateral sclerosis
Aβ:

Amyloid-β
Bap31:

B-cell receptor-associated protein 31
CoA:

Coenzyme A
DLP1:

Dynamin-like protein
ER:

Endoplasmic reticulum
FACL4:

Long-chain-fatty-acid-CoA ligase 4
Fis1:

Mitochondrial fission 1 protein
FTD:

Frontotemporal dementia
FUS:

Fused in sarcoma
grp75:

Glucose-regulated protein 75
GSK3β:

Glycogen synthase kinase 3β
IP3R:

Inositol 1,4,5-trisphosphate receptor
MAMs:

Mitochondrial associated membrane
MCU:

Mitochondrial calcium uniporter
MERC:

Mitochondria-ER contact/crosslink/crosstalk/communication
Mfn:

Mitofusin
mPTP:

Mitochondrial permeability transition pore
PACS-2:

Phosphofurin acidic cluster sorting protein 2
PARK2:

Parkin
PD:

Parkinson's disease
PS:

Presenilin
PSS:

Phosphatidylserine synthase
PTPIP51:

Protein tyrosine phosphatase-interacting protein-51
SERCA:

Sarco–endoplasmic reticulum Ca2+ ATPase
Sig-1R:

Sigma1R
SOD1:

Superoxide dismutase 1
TCA:

Tricarboxylic acid cycle
TDP-43:

TAR DNA-binding protein 43
VAPB:

Vesicle-associated membrane protein-associated protein B
VDAC:

Voltage-dependent anion channel
Declarations
Acknowledgements
Not applicable.
Funding
This work is partly supported by National Institute of Health (grant numbers NS083385 and AG049479 to XZ) and Alzheimer's Association (AARG-16-443584 to XZ).
Availability of data and materials
Not applicable.
Authors' contributions
YL and XZ conceived and wrote the manuscript. Both authors read and approved the final manuscript.
Ethics approval and consent to participate
Not applicable.
Consent for publication
Not applicable.
Competing interests
X.Z. is a paid consultant of Sierra Research Group LLC.
Open AccessThis article is distributed under the terms of the Creative Commons Attribution 4.0 International License (http://creativecommons.org/licenses/by/4.0/), which permits unrestricted use, distribution, and reproduction in any medium, provided you give appropriate credit to the original author(s) and the source, provide a link to the Creative Commons license, and indicate if changes were made. The Creative Commons Public Domain Dedication waiver (http://creativecommons.org/publicdomain/zero/1.0/) applies to the data made available in this article, unless otherwise stated.
Authors' Affiliations
(1)
Department of Pathology, Case Western Reserve University, Cleveland, USA