Dual destructive and protective roles of adaptive immunity in neurodegenerative disorders
Translational Neurodegeneration
2014
3:25
Received: 20 August 2014
Accepted: 28 October 2014
Published: 13 November 2014
Abstract
Inappropriate T cell responses in the central nervous system (CNS) affect the pathogenesis of a broad range of neuroinflammatory and neurodegenerative disorders that include, but are not limited to, multiple sclerosis, amyotrophic lateral sclerosis, Alzheimer's disease and Parkinson's disease. On the one hand immune responses can exacerbate neurotoxic responses; while on the other hand, they can lead to neuroprotective outcomes. The temporal and spatial mechanisms by which these immune responses occur and are regulated in the setting of active disease have gained significant recent attention. Spatially, immune responses that affect neurodegeneration may occur within or outside the CNS. Migration of antigen-specific CD4+ T cells from the periphery to the CNS and consequent immune cell interactions with resident glial cells affect neuroinflammation and neuronal survival. The destructive or protective mechanisms of these interactions are linked to the relative numerical and functional dominance of effector or regulatory T cells. Temporally, immune responses at disease onset or during progression may exhibit a differential balance of immune responses in the periphery and within the CNS. Immune responses with predominate T cell subtypes may differentially manifest migratory, regulatory and effector functions when triggered by endogenous misfolded and aggregated proteins and cell-specific stimuli. The final result is altered glial and neuronal behaviors that influence the disease course. Thus, discovery of neurodestructive and neuroprotective immune mechanisms will permit potential new therapeutic pathways that affect neuronal survival and slow disease progression.
Keywords
NeurodegenerationNeuroprotectionMigrationMPTPMCAMRegulatory T cellEffector T cellNeuroinflammation
Introduction
The pathobiology of neurodegenerative disorders has proven complex and multi-faceted. One commonality between the disorders is the involvement of innate and adaptive immune responses in the central nervous system (CNS)[1]. The interplay between peripheral and resident CNS immunity can affect neuroinflammatory responses and exacerbate neurodegeneration[2]. Previously, the CNS was believed to be immune privileged and deprived of infiltration of peripheral immune cells[3, 4]. This has since been disproven on several grounds[4, 5]. First, the CNS is composed of a unique blood brain barrier (BBB) that affords limits and control over the infiltration of peripheral immune cells[4]. Control of immune cell infiltration into the CNS is regulated through unique cell adhesion molecules (CAMs) and CAM ligands on BBB endothelial cells. Second, during neuroinflammatory responses, the expression of these CAMs can be upregulated, allowing a greater number of adaptive immune cells to cross the BBB and interact with resident immune cells in the brain[6–11]. Third, T cells, such as regulatory T cells, can elicit a neuroprotective response, thus complete ablation of T cell infiltration to the CNS could be detrimental to the host[12–14]. Therapies that competitively interact with CAMs and CAM ligands can modulate the extravasation of peripheral immune cells into the CNS. Those pharmaceutical agents that more selectively inhibit migration of pro-inflammatory or deleterious T cells, but allow anti-inflammatory or regulatory T cell migration could evoke beneficial and neuroprotective responses. To these ends, the current review article aims to describe the role of immune cells in neurodegenerative disorders, migration of these immune cells from the periphery into the CNS, the interactions between innate and adaptive immune responses, and pharmacologic immune modulators in neuroprotection. Lastly, primary data will be discussed that support findings linking the migration of specific T cell subsets in a disease-relevant model.
T cells and adaptive immunity
T cells represent one arm of the adaptive immune system which is responsible for mounting a response against foreign antigen. T cells are derived from bone marrow lymphocyte progenitors that mature and are educated within the thymus; whence they migrate to the periphery and reside throughout the tissues of the body, but mainly in spleen, lymph nodes, and peripheral circulation. T cells, acting as effector cells, provide the impetus and signals for directing the cellular and antibody responses necessary to clear foreign pathogens and antigens, but also, as regulatory T cells (Tregs), endow immunological tolerance to the individual and actively restrains one's immune system from recognizing itself as foreign.
Adaptive immunity
Both innate and adaptive immune responses are important for mounting the body's defense against a pathogen or foreign microorganism. The innate response is the first line of defense, which is relatively rapid, recognizes a broad spectrum of antigen patterns, does not require immune memory, and is characterized by phagocytic activity mediated by resident mononuclear phagocytes such as macrophages, dendritic cells, and microglia. The adaptive immune response requires substantially greater time to develop, produce and utilize immunological memory, and affords narrow specificity for antigens based on lymphoid receptors for antigen expressed by T cells [T cell receptors (TCRs)] and B cells [immunoglobulins (Igs)]. The main function of the adaptive immune system is to recognize foreign invaders, destroy foreign microorganisms or pathogens, and relieve pathogen-associated toxicities. However, to initially mount an immune response, the innate arm of the immune system must first be activated by recognition via broadly-specific pattern recognition receptors (PRRs) which recognize microorganism-associated molecular patterns (MAMPs) or damage-associated molecular patterns (DAMPs). In an innate response, antigens recognized by PRRs of mononuclear phagocytes are engulfed, digested, and processed to bind with molecules of the major histocompatibility complex (MHC). Upon maturation, mononuclear phagocytes acquire an antigen presenting capability whereby processed and MHC-bound antigen is expressed on the cell surface in a configuration necessary for T cells to recognize the antigen via the TCR. Unlike Igs which recognize cellular- or non-cellular-bound antigen, the TCR only recognizes antigen presented by MHC molecules on antigen presenting cells (APCs). APCs also express co-stimulatory molecules such as CD80, CD86, CD70, CD40, and CD200 that are necessary to generate an effective, robust, and specific immune response. As APCs, these mononuclear phagocytes bridge the innate and adaptive arms of the immune system by providing the antigen and co-stimulation necessary for naïve T cells to become activated. Additionally, APCs also deliver cytokine signals, such as IL-12, IL-4, IL-6, and TGF-β that direct naïve T cells to follow a program of polarized differentiation and transforms them into activated T cells with specific effector functions (see below, T cell subsets). Once activated, T cells proliferate and undergo clonal expansion to increase their cell number and potential to challenge invading pathogens. One mechanism by which effector T cells expand in the presence of antigen is to secrete pro-growth cytokines to the surrounding environment. For instance, activated T cells produce and secrete IL-2 cytokine that binds their own IL-2R to enhance proliferation in an autocrine fashion, as well as enhance proliferation of surrounding T cells in a paracrine fashion[15]. In addition, to achieve as efficient effector function as possible, activated T cells migrate to areas of infection and inflammation to interact with other immune cells, such as macrophages or microglia, and bestow collaborative effector functions to rid the host of a foreign assault. Thus, T cells are important for the general cellular-mediated response of the adaptive immune arm.
T cell subsets
T cells are generally characterized by expression of the TCR-CD3 complex on the cell surface. While the TCR recognizes presented antigen, it does not possess the cytosolic machinery necessary for successful signal transduction; however, the CD3 complex serves as the signaling mechanism that bridges the antigen recognition and conveyance of signal for effector function. T cells are subdivided into two major lineages based on the expression of either CD4 or CD8 on the cell surface. CD4+ T cells are considered helper T (Th) cells. With the TCR recognizing the antigen, the CD4 molecule acts as a co-receptor and binds the MHC II molecule that presents the antigen from the APC. Depending on the cytokines generated by the APC, activated CD4+ T cells develop into specific effector T cell (Teff) subsets that include type-1, -2, -17 or -9 Th cells designated as Th1, Th2, Th17, or Th9 cells, respectively, as well as Tregs. Th subsets secrete a variety of cytokines that act as either pro- or anti-inflammatory mediators. Classically, Th1 cells are important for mounting immune responses against intracellular pathogens and are characterized by secretion of predominately IFN-γ, TNF-α, and IL-2[16, 17]. IFN-γ from Th1 cells enhances macrophage activation necessary for immunity to pathogens that cause listeriosis, tuberculosis, salmonellosis, and leishmaniasis. In addition, Th1 cells produce IL-2 and IL-21 that promote and maintain antigen-specific CD8+ cytotoxic T lymphocytes (CTLs) that lyse virus-infected cells. CTLs are primarily responsible for ridding the host of intracellular pathogens and virus-infected cells. CTLs recognize antigen presented by MHC class I, which is expressed by most cells in the body. When activated and expanded, CTL effectors produce perforins and granzymes to induce cell-mediated cytolysis[18]. On the other hand, Th2 cells preferentially generate help for antibody-mediated responses, mainly through the secretion of IL-4, IL-10, IL-13, and IL-5, which act on B cells for antibody production. Because the prototypical cytokines from Th1 and Th2 cells regulate the expression of each other's master-controlling transcription factors, this preferentially selects T cells to differentiate into either Th1 or Th2 effector cell types in response to pathogens[16]. Th17 cells are a more recently discovered subset of Teffs. They predominantly secrete IL-17, as well as TNF-α, and are thought to be important for protection against extracellular infections, and as such, yield a particularly heavy armament as a destructive Teff type due primarily to the pro-inflammatory milieu secreted in response to extracellular pathogens[19]. In addition to the Th17 effectors, another subset expresses IL-9 and is thought also to be important in resolution of extracellular infections. The Th9 subset has been implicated in promoting the migration of Th17 cells to the CNS[20] and potentiation of Th17 effectors via the ability to increase Th17-produced IL-17. Moreover, recent evidence indicates that other T cell types such as Tregs, Th1, and Th17 also can secrete IL-9 with pleiotropic effects that may ultimately alter the predominant proinflammatory response[21]. Th22 cells are a separate lineage of CD4+ Teffs that primarily secrete proinflammatory cytokines such as IL-22, IL-13 and TNF-α, and express the skin homing-associated chemokine receptors CCR4, CCR6 and CCR10[22]. Th22 cells differentiate from naïve T cells in the presence of IL-6 and TNF-α under control of the transcription factors aryl hydrocarbon receptor and GATA3. These Teffs are recruited to the skin and thought to be involved in microbial immunity and tissue repair and remodeling. Skin disorders such as psoriasis, eczema, and contact dermatitis may be due to dysregulation of Th22 migration or function. Each of these T cell subsets plays crucial, yet independent roles in mounting a robust and effective adaptive immune response. As these effector cells provide potent weapons toward immunity to foreign invaders, they also serve equally as potential liabilities due to increased pro-inflammatory cytokines, antibody-mediated cytotoxicity to cells, or hyperactivation of innate immune cells. Thus, regulation of the Teffs is necessary to prevent untoward pathological sequelae.
CD4+CD25+ Tregs provide that regulation, ostensibly via expression and control of a master regulatory transcription factor, forkhead box 3 (FoxP3). Tregs are a subset of T cells that regulate and suppress the activities of Teffs and myeloid lineage cells such as dendritic cells, microglia, and macrophages that comprise innate immunity. Tregs can be further subdivided into natural Tregs (nTregs) that are derived from the thymus and induced Tregs (iTregs) that arise from naïve T cells in the periphery[23]. Moreover, a primary function of Tregs is the maintenance of immunological tolerance to self and thus, inhibition of initial auto-immune responses and suppression of auto-reactive T cells that may arise in the peripheral tissues. Individuals that do not produce functional nTregs due to mutated FOXP3, develop immunodysregulation polyendocrinopathy enteropathy X-linked (IPEX) syndrome, a systemic, multi-organ autoimmune disorder[24]. Treg-mediated regulatory functions are achieved at many levels. First, Tregs inhibit initiation of immune responses by diminishing antigen processing and antigen presentation by MHC molecules as well as regulating 2nd and 3rd signals from APCs. Second, Tregs secrete anti-inflammatory cytokines such as IL-10, IL-35, and TGF-β that suppress activated mononuclear phagocytes and Teffs. Unlike the Th2 subset, which also elicits anti-inflammatory and protective effects, Tregs do not traditionally interact with B cells to elicit a response.
T cells in neurodegenerative disorders
The interplay between the innate and adaptive arms of the immune system is essential to the relationship between neuroinflammation, neuroprotection, and neurodegeneration. While neuroinflammation and neurodegeneration are associated with the pathobiology of neurodegenerative diseases, they are also responsible for the overall neuroprotective homeostasis of the host CNS in infectious or neoplastic disease surveillance. Similarities between multiple neurological disorders have provided common mechanisms of immune interactions that lead to protective or destructive effects within the CNS and peripheral nervous system (PNS). Although neuroinflammation and T cell interactions play a prominent role in disease progression, it should be noted that the immune response can vary from a very prominent primary T cell response, as in multiple sclerosis (MS), to seemingly less intense, though present, T cell response as in the cases of amyotrophic lateral sclerosis (ALS), Alzheimer's disease (AD) and Parkinson's disease (PD). However, it should also be noted that detrimental secondary inflammatory responses are observed in these neurodegenerative diseases, particularly in AD, PD and ALS, thus this commonality warrants further elaboration. Recent findings in human neurodegenerative disorders and in corresponding animal models have shown the involvement and putative mechanisms of T cells and subsequent secondary responses in disease initiation and progression.
T cell migration to sites of inflammation
The adaptive immune system functions to aid in effective clearance of foreign antigens by recognizing antigen presented in the context of an MHC molecule. Most efficacious immune responses occur in close proximity to the foreign antigen (e.g., cell-mediated lysis of infected cells). To gain proximity, circulating lymphocytes migrate across luminal barriers to gain entry to sites of infection or inflammation. Successful extravasation of an activated T cell from circulation to an area of inflammation is dependent on cell adhesion molecules (CAMs) and CAM ligands. These specialized binding partners expressed on both circulating T cells and endothelial cells (ECs) are critical to recruitment of proper immune cells to the site of inflammation. However, due to the BBB, migration of cells into the CNS and inflammatory sites therein presents a formidable exercise in mobility. The EAE model provides a prototypical system for the successful interaction of antigen specific CD4+ effector T cells with ECs and altered CAM expression to facilitate entry into the CNS and cerebral spinal fluid (CSF)[6, 112, 113].
Mechanisms of T cell-mediated destruction and protection
Based on interactions between T cells and surrounding immune cells, T cells can play a neuroprotective or neurodegenerative role in several diseases discussed (Figure
1
). The cross-talk between T cells and glial cells is thought to help mediate effector functions by either cell-cell contact or cytokine-mediated mechanisms. Possible neurodestructive mechanisms include direct cytotoxicity by proinflammatory cytokines, hyperactivation of proinflammatory microglia, or diminished suppressive function of Tregs. On the other end of the spectrum, targeting T cells to elicit a protective mechanism, could diminish the extent of neuroinflammation and therefore increase the number of surviving neurons in the CNS of patients with neurodegenerative disorders. The number of potential targets to elicit neuroprotection is extensive and will be discussed in further detail in the following sections.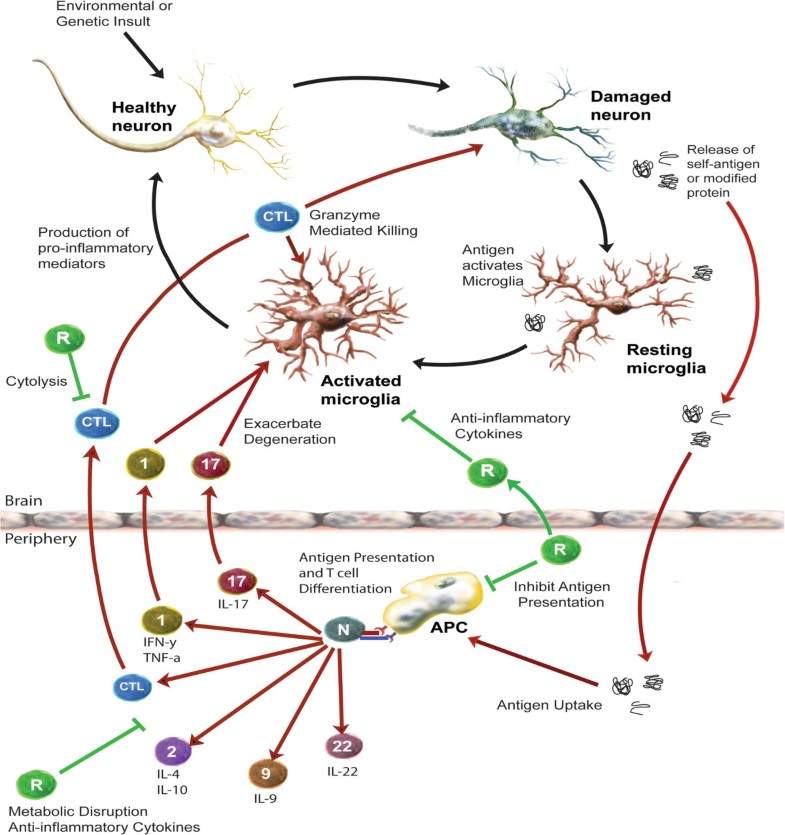 T cell-glial interactions and neurodegeneration
During viral infections and neuroinflammation, MHC II is upregulated by microglia, whereas MHC I is constitutively expressed by most cells including oligodendrocytes, neurons, microglia, and endothelia[136]. Therefore, neurons in a pro-inflammatory environment could serve as targets for CD8+ T cells with direct killing of neurons through antigen-specific interactions mediated by cytotoxic granzyme release[136]. In animal models of MS, studies demonstrated that CD8+ CTLs form stable adhesions with neuritis in a MHC I peptide-dependent fashion. Furthermore, MBP-specific CD8+ T cells induce direct tissue damage when injected into irradiated recipient mice[137] (Figure 1). Increased numbers of CD8+ T cells are found in close proximity to activated microglia in post mortem studies of PD patients[104], however their role in PD and PD animal models remains enigmatic. The presence of T cells within the brain of PD patients exceeds those typically found in the CNS and suggests a role of the T cell beyond normal surveillance[138]. These studies, taken together, suggest a strong role of MHC I restricted CD8+ T cells in the pathogenesis of neurodegenerative disorders that may involve not only disease progression, but also initiation of disease events.
The probability exists that multiple T cell subsets other than CD8+ Teffs play a role in inflammation-associated neurodegenerative disorders (Figure 1). MHC II restricted CD4+ Teffs appear to play a detrimental role in neurodegenerative disease pathogenesis. CD4+ Teffs recognize antigen presented by MHC II expressing microglia within the CNS resulting in the activation of resident immune cells. Examples of the self-reactive antigens believed to be involved in T cell activation include N-α-syn in PD[13], Aβ in AD[88], and MBP in MS[139] (Figure 1). These microglial-T cell interactions induce reactive microglia to release neurotoxic factors that ultimately damage the neuron and drive the neuroinflammatory cycle. Whereas one EAE study showed CD8+ T cells in close proximity to activated microglia and that CD8+ T cells induce direct neuronal damage via recognition of antigen in a MHC dependent fashion, T cells in another study were detected directly attached to neurons, although independent of MHC molecules, and elicited cytotoxicity via a glutamate-mediated mechanism[140]. This suggests a possible direct neurotoxic T cell-mediated mechanism that may not require recognition of self-antigen in the context of MHC. The association of T cell-mediated enhanced microglial function was recently demonstrated by depletion of CD4+ T cells from SOD-1 mutant mice that resulted in significant diminution of CD11b+ immunoreactivity, thus supporting the idea that direct T cell-microglia interactions may potentiate neurodegeneration[141]. As discussed previously in this review, CD4 knock out (KO) mice show increased survival and decreased motor loss which may suggest a dual role of CD4+ T cells in ALS pathogenesis[66]. The detrimental effects of Th17 cells are known in neurodegenerative diseases and their respective models[142]. An underlying mechanism of Th17-mediated neurotoxicity is through direct contact with neurons through Fas-Fas ligand (FasL) interactions resulting in apoptosis and neuronal death[87]. Glial cells within the CNS can also act through the Fas-FasL interactions to inhibit or kill infected cells and target activated lymphocytes or Teffs that could yield neurotoxic events[1]. Thus, the loss of potentially neurotoxic immune effector cells would eliminate those Teff-mediated killing mechanisms that act directly on neurons or indirectly via microglial activation and should prove to be neuroprotective. Furthermore, studies have shown that deficits in this regulatory circuit are known to contribute to inflammatory neurodegeneration[1].
Potentiating or mitigating neuroinflammatory circuits are astrocytes, a glial subset that normally is involved in the maintenance of brain homeostasis. However, in the presence of hyper-activated microglia, astrocytes can directly participate in inflammatory reactions to secrete pro-inflammatory mediators such as IL-6 and TNFα, upregulate expression of FasL, and diminish trophic activities that eventually lead to the acquisition of a neurotoxic phenotype that exacerbates neurodegeneration[143, 144]. Similarly, while microglia that exist in an alternatively-activated (M2) state are generally considered neuroprotective and release anti-inflammatory cytokines as well as neurotrophic factors, under neuroinflammatory conditions, microglia can readily switch to an M1 cytotoxic phenotype (Figure 1). The phenotypic switch is accompanied with upregulation of oxidative stress generating enzymes such as iNOS, NADPH oxidase, and myeloperoxidase; increased levels of reactive oxygen species (ROS) and reactive nitrogen species (RNS); and secretion of neurotoxic levels of proinflammatory cytokines including IL-1β, TNFα, and IFN-γ[64] that lead to secondary neuronal damage[145]. A recent study showed that in MS patients proportions of Th22 cells correlated with those of Th17 cells, serum IL-22 concentrations were highest during peak phases of disease, and those levels diminished during recovery phases[146]. In addition to an essential role for Th22 and Th17 in MS, these data suggested that the two Teff types may play synergistic roles in disease progression and yielded speculation that since IL-23 promotes IL-17 and IL-22 secretion, IL-23 receptor and STAT3 signaling may provide a key pathway in the activation of Th22 cells and Th17 Teffs. Moreover, activated microglia proved to be a potent source of IL-23 expression in active and chronic active MS lesions[147], suggesting that microglia may provide the stimulatory signals responsible for activation of Th17 and Th22 Teffs.
Treg targeted neuroprotection
As we have discussed, T cells play a dual role in neurodegeneration and neuroprotection during CNS disorders. Early studies in models of nerve injury showed improved recovery that coincided with the presence of activated immune cells[145]. Therefore, targeting the adaptive immune system could provide a potential strategy to halt neurodegenerative progression. Tregs are potent immune modulators with the ability to suppress the immune system through multiple mechanisms including secretion of anti-inflammatory cytokines that inhibit differentiation of Teffs; direct killing of Teff subsets; blocking of co-stimulation of naïve T cells and Teffs; and metabolic disruption of Teffs via uptake of IL-2[23, 142] (Figure 1). Anti-inflammatory cytokines, such as IL-4, IL-10, and TGFβ, are prime anti-inflammatory mediators that diminish neuroinflammation and increase neuroprotection. Tregs isolated from mutant SOD-1 mice and co-cultured with wild type microglia suppressed NOX2 and iNOS production via an IL-4 mediated mechanism[70]. Moreover, adoptive transfer of those Tregs to T cell deficient ALS mice augmented neuroprotection of motor neurons and extended recipient survival. Additionally, neuroprotective mediators such as T cells that express anti-inflammatory cytokines and neurotrophic factors were expressed in a temporally and spatially distinct fashion depending on the clinical scores and extent of histopathology[63, 70]. Importantly, numbers of Tregs and FOXP3 expression from ALS patients were reduced in rapidly progressing ALS patients, inversely correlated with disease progression rates, and were predictive of future rapid progression[62]. Multiple lines of evidence from our laboratories have demonstrated the efficacy of several immunomodulators in eliciting Treg-mediated neuroprotection in models of neurodegeneration[12–14, 51, 109, 111, 148, 149]. These immunomodulatory agents such as anti-CD3, VIP and GM-CSF primarily act to increase Treg numbers and functional capabilities that exploit Treg function to diminish the neuroinflammatory cycle and provide neuroprotection.
Modulation of T cell CNS infiltration
T cell infiltration of the CNS has been demonstrated in multiple neurodegenerative diseases[
150
]. This infiltration into the CNS is generally restricted to activated T cells and occurs in a well-characterized and stepwise manner[
151
] (Figure
2
). CNS degenerative disorders wherein T cell extravasation is thought critical for disease initiation and progression is best documented in the EAE model. Blocking antibodies and multiple drugs have been utilized to target specific subunits of CAMs with the ultimate goal of blocking BBB migration of encephalitogenic Teffs that are specific for the self-antigen[
27
,
135
,
151
]. One consensus is that extravasation of T cells in inflammation-associated neurodegenerative disorders such as MS is dependent not only on the CAMs and ligands utilized by ECs and T cells, but also on the cellular architecture and the site at which T cells migrate. This consensus is particularly critical to the notion that migration of T cells across the BBB is necessary for disease initiation or progression; however, others have suggested that T cells may function in an endocrine or paracrine fashion across a BBB that has become more permeable under inflammatory conditions[
152
]. In addition to the conventional group of CAMs that regulate T cell extravasation, a recent study identified MCAM (CD146) expressed on Th17 Teffs and its ligand, laminin 411, expressed within the vascular endothelial basement membrane[
117
]. Anti-MCAM antibodies inhibited the
in vitro
interaction of MCAM and laminin 411, and administration of anti-MCAM antibodies to recipient mice prior to adoptive transfer of encephalitogenic Th17 Teffs reduced Th17 cell infiltration and ameliorated disease in EAE. These data suggested that MCAM expressed by Th17 Teffs may provide a strategic therapeutic target for inhibiting migration of neurotoxic Th17 Teffs and affording increased neuroprotection.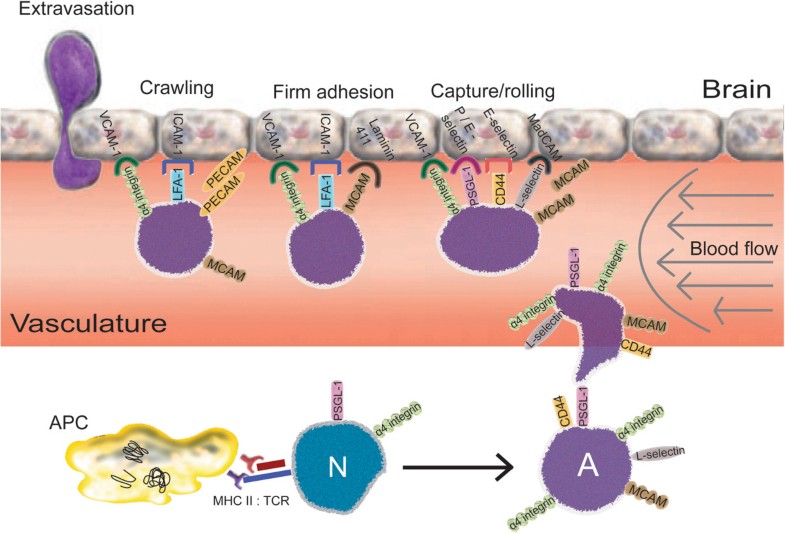 Novel insights for T cell responses in Parkinson's disease
Our laboratories have accumulated a substantial amount of evidence indicating that adoptive transfer of N-α-syn-specific Teffs after MPTP intoxication exacerbates neuroinflammation, enhances neurodegeneration, and prolongs lesion development[2, 13, 108, 111, 127]. Recent evidence from clinical studies indicated that T cells with an activated or memory/effector phenotype are present in greater frequencies in PD patients compared to age- and environment-matched caregiver controls[102]. Increased proportions of those T cell subsets were directly correlated with diminished motor function and associated with diminished Treg function in PD patients. Taken together, the detection of CD4+ and CD8+ T cells within the SN of mice treated with MPTP and in PD patients, the proximity of infiltrating T cells to MHC expressing microglia/macrophages, and CD4/CD8 ratios of infiltrating T cells that are reversed from those expected in peripheral circulation[13, 51, 97, 104, 108] provide strong evidence for the directed extravasation and migration of activated T cells to sites of inflammation and for the association of increased disease or lesion progression with increased T cell infiltration. However, whether extravasation and migration of T cells are necessary and the mechanism(s) associated with T cell migration in Parkinsonism have not been adequately evaluated.
Conclusions
Considerable evidence supports the notion that T cell-mediated immunity plays an important role in disease progression in neurodegenerative disorders. This is most evident in MS with increased activity of autoreactive Teffs for self-antigens that comprise the myelin sheath. MS seems to be the most extreme disorder whereby unregulated T cell immunity, for the most part, mediates direct neurotoxicity as well as drives other components of the immune system to produce autoantibodies (B cells) and neuroinflammation (reactive microglia and infiltrating macrophages). Expectedly in MS, Treg levels and function are most notably found to be diminished compared to the unaffected populations. In ALS, numerous alterations in adaptive immunity are also well-known, and range from increased levels of anti- self-antibodies to diminished Treg levels and increased levels of proinflammatory Teffs not only in the peripheral blood, but also in sites of neurodegeneration within the spinal cords of ALS patients. Moreover, increased expression of MHC II by APCs and microglia/macrophages suggests the association of a systemically activated immune system in ALS. AD patients also exhibit significant aberrations in immune cells and function. Neurodegeneration in AD is also thought to be associated with increased neuroinflammation that drives disease progression. While wide variability in levels of immune cells is exhibited among studies of AD patients, CD4+ T cells are chiefly reported to be in fluctuation with opposing pro-inflammatory Teffs and anti-inflammatory T cells or T cell functions at imbalance. The recent clinical trial of an Aβ1-42 experimental vaccine in AD patients which drove immune responses of some patients toward a T cell-mediated meningoencephalitis underscores the putative precipice by which this imbalance hangs and awaits only the slight nudge of the T cell response to drive disease progression toward either neurotoxicity or neuroprotection. In PD, loss of dopaminergic neurons is also associated with a neuroinflammatory component, which is thought to play a key role in disease progression. Recent studies showed that PD patients exhibit increased levels of T cells with effector/memory phenotypes as well as corresponding diminution of Treg function, both correlating with the severity of motor dysfunction. Taken together, the preponderance of evidence supports a role for adaptive immune responses in neurodegenerative disorders, particularly those associated with a neuroinflammatory component. However, the mechanism(s) utilized and the epitopes recognized have yet to be determined for each of these disorders. One perspective is that with low regulatory function, peripheral Teffs, which are normally kept in check, can expand and evade control to exacerbate disease processes and accelerate or amplify disease progression. In different proteinopathies, the possibility exists that the modified, misfolded, and aggregated proteins associated with each particular disorder (MBP, MOG, SOD1, Aβ, tau, or α-syn) are not adequately degraded or eliminated, and eventually drain with inflammatory mediators to peripheral lymphoid tissues, wherein they are preferentially processed and presented by APCs. Proinflammatory environments in the draining tissues with increased presentation of modified self-proteins could provide conditions more conducive to elicitation of Teffs such as Th1 and Th17 cells. Marshaling those Teffs to sites of neuroinflammation, and evoking their destruction potential would provide added neurotoxic conditions. Conversely, mobilizing anti-inflammatory T cells, such as Th2 and Tregs, to these same sites may provide neuroprotective responses and serve as therapeutic strategies to control the proinflammatory processes of neurodegeneration. Thus, the mechanism(s) of T cell migration and extravasation to sites of neuroinflammation remain major issues in neurodegenerative disorders. Indeed, with the exception of MS whereby treatment with fingolimod or natalizumab limits T cell migration and extravasation, the necessity of Teff infiltration for exacerbation of neurotoxicity in other neurodegenerative disorders has not been established.
The lack of significant neuroprotection afforded with the administration of anti-MCAM described herein could be due to a number of factors. First, administration of the MCAM blocking antibody may have been needed at times other than 1 hour prior to adoptive transfer or at a greater concentration to ensure that the antibody had sufficient opportunities to bind to the MCAM receptor. Second, the relatively low percentage of adoptively transferred cells that expressed MCAM prior to adoptive transfer could have proven problematic since the antibody could not have been able to find its target within the entire circulation. Third, the use of N-4YSyn as stimulation instead of anti-CD3 may not have activated the cells enough to increase infiltration into the CNS. The amount of N-4YSyn specific cells that were transferred into MPTP-intoxicated MPTP mice may have been an insufficient number to see increased migration leading to a lack of significant differences between MPTP and PBS treated mice as well. Lastly, T cell extravasation from the circulation does not rely on one CAM alone, but rather is a combination of CAMs that work in a redundant and synergistic fashion to allow cells to cross endothelial cell barriers. This leads to the possibility that blocking MCAM only is not sufficient to halt T cell infiltration as other CAMs could take over the role of MCAM. If complete and significant blockage of CD4+ cell entry to the CNS is the ultimate goal, administration of a variety of CAM blocking agents may be necessary to target multiple steps in immune cell extravasation.
Abbreviations
111In:

111Indium
α-syn:

Alpha-synuclein
AD:

Alzheimer's disease
ALS:

Amyotrophic lateral sclerosis
APC:

Antigen presenting cell
Aβ:

Amyloid beta
AT:

adoptive transfer
BBB:

Blood brain barrier
CAM:

Cell adhesion molecule
CLT:

Cytotoxic T lymphocyte
CNS:

Central nervous system
Cop-1:

Copolymer-1
CSF:

Cerebral spinal fluid
CT:

Computed tomography
DAMP:

Damage-associated molecular patterns
EAE:

Experimental autoimmune encephalomyelitis
EC:

Endothelial cell
FasL:

Fas ligand
FoxP3:

Forkhead box P3
GM-CSF:

Granulocyte macrophage colony stimulating factor
ICAM-1:

Intercellular adhesion molecule 1
Ig:

Immunoglobulin
IPEX:

Immunodysregulation polyendocrinopathy enteropathy X-linked
iTreg:

Induced regulatory T cell
LB:

Lewy body
LN:

Lewy neurite
LPS:

Lipopolysaccharide
MAMP:

Microorganism-associated molecular patterns
MBP:

Myelin basic protein
MCAM:

Melanoma cell adhesion molecule
MHC:

Major histocompatibility complex
MPTP:

1-methyl-4-phenyl-1,2,3,6-tetrahydropyridine
MS:

Multiple sclerosis
N-α-syn:

Nitrated-α-syn
N-4YSyn:

Nitrated C-terminal peptide of N-α-syn
nTreg:

Natural regulatory T cell
PBS:

Phosphate buffered saline
PD:

Parkinson's disease
PECAM-1:

Platelet endothelial cell adhesion molecule 1
PNS:

Peripheral nervous system
PRR:

Pattern recognition receptor
RNS:

Reactive nitrogen species
ROS:

Reactive oxygen species
SN:

Substantia nigra
SPECT:

Single photon emission CT
TCR:

T cell receptor
Teff:

Effector T cell
Th:

Helper T cell
Treg:

Regulatory T cell
UPDRS III:

Unified Parkinson's Disease Rating Scale Part III
VCAM-1:

Vascular cell adhesion molecule 1
VIP:

Vasoactive intestinal peptide
WT:

Wild type.
Declarations
Acknowledgements
We gratefully appreciate and acknowledge Max V. Kuenstling and Dr. Elizabeth A. Kosmacek for technical support and acquisition of data for parts of these works. Acquisition of flow cytometric data was performed by the UNMC Cell Analysis Facility. This work was supported by grants from Prothena Biosciences, the Carol Swarts Neuroscience Research Laboratory, the Frances and Louie Blumkin Foundation, Department of Defense Grant W81XWH11-1-0700, and the National Institutes of Health R01 NS034239 P01 DA028555, R01 NS036126, P01 NS031492, P01 MH064570, P01 NS043985 (HEG), and R01 NS070190 (RLM).
Authors' Affiliations
(1)
Department of Pharmacology and Experimental Neuroscience, Center for Neurodegenerative Disorders, The University of Nebraska Medical Center, Omaha, USA
(2)
Prothena Biosciences, South San Francisco, USA
Copyright
© Anderson et al.; licensee BioMed Central Ltd. 2014
This article is published under license to BioMed Central Ltd. This is an Open Access article distributed under the terms of the Creative Commons Attribution License (http://creativecommons.org/licenses/by/4.0), which permits unrestricted use, distribution, and reproduction in any medium, provided the original work is properly credited. The Creative Commons Public Domain Dedication waiver (http://creativecommons.org/publicdomain/zero/1.0/) applies to the data made available in this article, unless otherwise stated.